The commitment to technology and innovation has always been one of the fundamental pillars for Laulagun Bearings, which is now taking another step in this direction with the expansion of its testing facilities at its test center in Idiazabal, Gipuzkoa, thus reinforcing its position as a leading company in the wind sector.
Members of the new Bearinn R&D area and representatives of Ikerlan, the Basque Government, the Gipuzkoa Provincial Council and Nordex-Acciona have visited the facilities of this new test bench today.
The best technology to respond to the challenges of the future
Laulagun has had its own test center since 2011, which has enabled it to test bearings for clients and participate in European, regional and state projects (H2020 – Interesting, Elkartek Meevce, Hazitek HyWiT5.0, among others).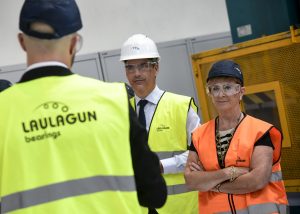 As the technological partner that it is, Laulagun Bearings continues to reinforce its spirit as a leader in the wind sector with the expansion of this test center, essential to continue responding to market needs. Laulagun has been working daily for more than 50 years to respond to customers' current and future challenges in the eolic industry, and the basis of all this is its commitment to offering the best technology on the market.
Proof of this is the new 3RR technology, the bearing with three rows of rollers. Laulagun has more than 25 years of experience in the wind sector, and has installed more than 60,000 bearings up to 5 meters in diameter. 3RR technology is the new bet of Laulagun, which as a technological partner, continues to create, develop, manufacture and test state-of-the-art components for wind turbines.
The Laulagun Bearings plants in the Basque Country and India are fully equipped with the best machinery made in Gipuzkoa to meet the needs of both the onshore and offshore markets, where Laulagun's entry will be imminent.
Onshore and offshore market
The market increasingly demands better solutions, which is why it becomes essential to offer a complete operating framework, where an exhaustive control of all the components of a bearing comes into play, both onshore and offshore.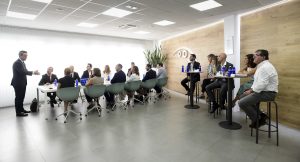 The demands are even tougher in the offshore market, where Laulagun has made a firm commitment to the implementation of new developments for this market. The technology developed by Laulagun is more than prepared to continue responding to this market, which is even more demanding than the onshore market due to its circumstances, where testing is given great importance.
Innovation and technological development
The clear commitment that Laulagun Bearings has made to offer the best technology on the market has made it a benchmark in the bearings sector, becoming much more than a supplier.
Proof of this is the creation of the Bearinn R&D work unit, a new area of ​​Laulagun Bearings dedicated to innovation and technological development. Laulagun Bearings is the perfect circle, where the client obtains everything necessary to develop his project.