Laulagun has received a visit from the Guipuzcoan authorities today. Markel Olano General Deputy of Gipuzkoa, Jabier Larrañaga Deputy of Economic Promotion, Tourism and Rural Affairs, and Iker Estensoro Director of Economic Promotion have visited the Laulagun facilities, where they have been able to know first-hand the challenges that we face every day, as well as the future projects that we are developing. Nicolas Joffrion Director of Performance and Industrial Operations, Sabine Rolland Director of Strategy and Development and Erwan Taton, Chairman of the Management Board of Legris Industries Group, have also accompanied us on the visit.
Internationalization, industry 4.0 and investment in R+D+i, axes of Laulagun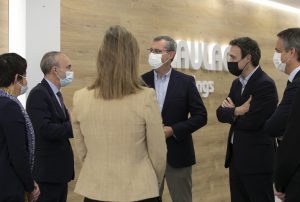 Laulagun Bearings, a company that belongs to Groupe Legris Industries, has been and is one of the driving companies of the territory and of the industrial fabric of Gipuzkoa. We currently have a workforce of 300 workers (77 more than in 2020), "a figure that we intend to increase in the coming years thanks to investment in R+D+i, launch of new technologies and globalization of the business with a plant in India", has expressed Pello Irujo, CEO of Laulagun Bearings.
As Irujo explained today during the visit, "continuing to offer the best solutions to our clients is one of Laulagun's reasons for being"; for this reason, he has stated to the representatives of the Provincial Council that "our future development lines will follow the current path, betting on internationalization, industry 4.0, investment in R+D+i, the reduction of LCOE of our clients and the social responsibility".
For this, the Laulagun management team hopes to continue counting on the support of the Gipuzkoan and Basque institutions, a statement that has also been made known to Olano and Larrañaga..
The industry linked to renewable energies, "a solid pillar"

For his part, the General Deputy of Gipuzkoa, Markel Olano, has affirmed that the industry linked to renewable energies represents "a solid and fundamental pillar" for the economic recovery of the entire territory, verifying that there are "very leading and well positioned companies" in this sector "of maximum demand".
The General Deputy has shown "his total confidence with the technological and innovative capacity" of the Gipuzkoan industry, and has stated that "the field of wind energy, both onshore and offshore, is an area of ​​opportunity for Gipuzkoa. We have advanced knowledge generation projects, manufacturing companies that innovate and compete in the most demanding markets. The example of Laulagun shows us the way forward to develop a green economy, one of the main values ​​for post-pandemic social and economic recovery according to the EU".