Laulagun Bearings will participate in the annual WindEurope event, which this time will be held in Bilbao between April 5 and 7.
The world situation makes WindEurope 2022 an even more anticipated event for the entire wind sector, where Laulagun Bearings will have its own stand. Those responsible for different areas of Laulagun will be available to everyone who wishes to get to know all the news developed by Laulagun.
3RR technology
One such innovation is the new 3RR technology, the three-row roller slewing bearing. Laulagun has more than 25 years of experience in the wind sector and has installed more than 60,000 bearings up to 5 meters in diameter. 3RR technology is the new bet of Laulagun, which as a technological partner that it is, continues to create, develop, manufacture, and test the latest generation components for wind turbines.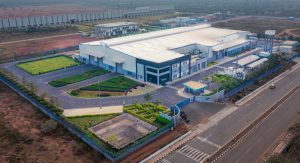 This new technology adds to the advances developed by the firm in recent years, all aimed at offering international clients the best solutions on the market. The start-up in 2021 of the Laulagun plant in Tamil Nadu, India, is also in this area. Bet that this 2022 will be reinforced with direct investments in machinery that will increase our capacity once again.
This commitment responds to the objective of accompanying clients with a view to having a global business and achieving its total homologation, always offering the know-how developed in Europe for more than 30 years.
In addition to this objective, the WindEurope event in Bilbao will also allow Laulagun Bearings to continue to be close to the main OEMs in the wind sector: Vestas, Nordex, SGRE, Enercon, Suzlon or Senvion.
Bet on renewable energies
Now more than ever, when the world situation is confused and Europe is working to define an alternative strategy to fossil energy, it is when the companies in the wind sector must be more united.
The commitment to renewable energies such as wind must be firm, as requested by the main OEMs in the sector mentioned above.
Laulagun believe in the firm commitment that the European Commission has collected in the "REPowerEU" document, where it proposes different measures to alleviate the current situation and the rise in energy prices.
It is time to bet on renewable energy and work to reach the goal of having 480GW of wind power and 420GW of solar power installed by 2030. The WindEurope event will be a propitious space to continue working towards this goal.
Visit us!
If you are going to Bilbao between April 5 and 7, don't miss the opportunity to meet with the Laulagun team. At WindEurope you can find us at stand 1-C30, but if you prefer, you can contact us at nmaiz@laulagun.com to make an appointment.